We've all been there. You're going for a walk on your own. From the other direction, you see a person approaching who's walking a dog, and their pooch is going nuts. The dog is straining at the leash, lunging, barking, trying to jump on people, and you just know if you get too close, you're going to have a problem. Do they have a bad dog?
360 K9 Training knows there's no such thing as a bad dog, there's just bad training, bad situations, and bad owners. If you have a doggo that's a little lacking in manners, you're running into problems, or you want to make sure they're properly trained in the first place, we can help. With more than four years of experience, we can help with a wide range of services: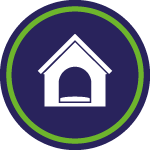 Boarding Only
You have the option to either come to our facility for one-on-one sessions, or we can come for home visits and provide focused training. If you're ready to help your dog become the best pet they can be, contact us online or by phone today.
Boarding Info
$45 a night. Your dog will be treated with upmost care at 360 K9. Bathrooms breaks are 3 times daily. All boarding will be allowed to mingle during potty breaks. If the weather permits each dog is taken for a walk before lights out. Your dogs will be boarded on 2 acres of land in a home environment.
---
Fill out the form to get started: